For all organizations that deal with large volumes of dataentry forms like invoices, vouchers, and medical claims, it has become very important to access information rapidly through online in a convenient form from single or multi locations.
SRIPL, a leading Data Entry service provider has years of experience finding Form Processing Solutions for major organizations and companies across the globe. We deal with both structured and non-structured versions of Form Processing.
We are providing all types of Form Processing Services. Various types of forms processed are the following:
Insurance Claim forms
Survey / Market Research forms
HTML forms
CGI forms
ASP, JSP & PHP forms
Accounts / Tax forms
Legal forms
Resume processing
E-mail forms
Online forms
Invoices / Purchase orders
Questionnaires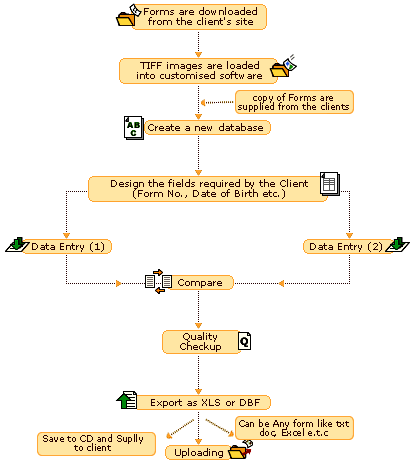 We will work with you to develop the suitable approach for streamlining your form processing needs as cost-effective as possible.
SRIPL uses state-of-the-art software for automatic extraction of information like names, phone numbers, addresses, dates, bar codes, numbers, and product codes in all stages of their Form Processing services.
Our Quality Assurance Team reviews your work on a 1:1 ratio versus random auditing basis. In cases where 100% accuracy is required, Re-key Verify Process is performed.
We are ready to serve you with our Form Processing and Data Entry services. You can contact us at any time. Please send us your requirement in detail, and we shall get back to you at the earliest with the right answer.